Alignment for growth
Logoplaste is recognized for its customer service and expertise build over the last 35 year.
To support its continuous growth and geographic expansion, Logoplaste is strengthening its Executive Team with two new appointments. 

Stefano Mirti
Chief Operating Officer

Stefano Mirti will move from CEO Europe & Asia to the new role of COO – Chief Operating Officer. Stefano's background and experience make him the perfect fit for the job.

Stefano holds an MBA in Strategic Management from Sacred Heart University, USA and a Degree in Process Engineering from Ecole des Mines, Nancy, France. His career is focused on leadership, with repeated success in business transformation, heading business development and revenue growth.
The goal through digital transformation is to ensure Operational Excellence, Flexibility and Agility everywhere we operate.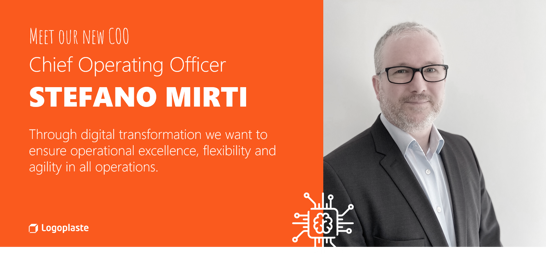 Charles Vinopal
Chief Human Resources Officer

After joining Logoplaste last September, Charles will move from VP HR Americas, to CHRO, centralizing Human Resources worldwide. Charles has extensive experience in global human resources leadership in a variety of industries, including packaging.

This new position at Logoplaste, will bring added value to Logoplaste's Executive Committee, focusing on people development, a strategic priority for the company.

Charles holds a Master's degree in Industrial Relations from Loyola University – Chicago; and a Bachelor's Degree in Psychology from Providence College.

Gerardo Chiaia, Logoplaste's CEO, said:

"Logoplaste is an amazing company, with a strong culture of innovation and, based on a foundation for excellence with a unique, sustainable, business model. We are convinced these changes will help our company to further grow and address our customer needs."
To download the press release please click here
​For more information please contact:
Magda Merali
Internal Communications Coordinator
magda.merali@logoplaste.com​
#Logoplaste
#LogoplasteTeam
#Shapingthefuturetogether
#Shapeyourcareerwithlogoplaste
;